About the Carroll County Historical Society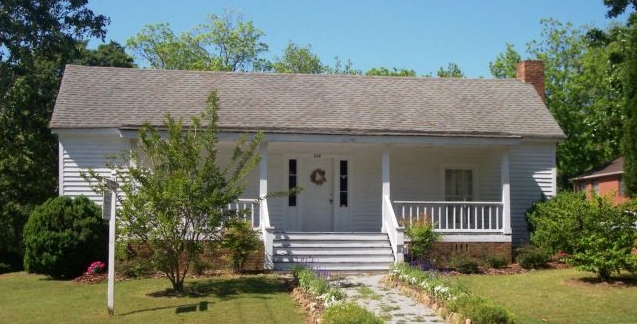 Curtis-Marlow-Perry House
CCHS has its headquarters in the old Curtis-Marlow-Perry house of 226 West Avenue, Carrollton Georgia. The little white house on the hill behind the Tracy Stallings Community Activities Center and Carrollton Senior Center.
The house was originally located on Stewart Street and is one of the oldest homes in Carrollton. It is a 16 X42 dogtrot with a central hall that was built in the early 1830a??s by Henry and Nancy Curtis. His son Col. William Curtis grew up in this house and became Captain of the Carroll Guards, 19th Georgia Regiment and the Colonel of the 41st Georgia during the War Between the States. Mr. Curtis is best remembered for selling the land lot, which became the county seat and the public square for the city of Carrollton.
Your Story is Important to US
Old letters, diaries, and photographs of the past; Items from individuals, businesses, and organizations in the community; Old farm tools, household items, and childhood mementoes help to bring to life the unique stories from the past. Items like these collected and saved by you and pasted down by your ancestors hold a sentimental value that tells the story of who you are. For that reason some of these items may be worthy of being saved for future generations to learn from. Whether or not members of your family attained some degree of fame or fortune, or struggled to survive personal and everyday items from the past contributed to the heritage of place and time. When you donate items and material to an archives or museum, your story and the story of your family will help countless others gain an appreciation of past events and the people who lived through them.
What we Collect
We are interested in collecting:
papers, photographs, books, and textiles, and objects of importance to the Society, Carroll County and the West Georgia Area. The Society is especially interested in collecting old photographs, and items relating to the rural and farming history of the county. We will except a box of items and after a thorough examination of theses all items, give back any items that we do not place in our museum or archives.
How to Donate to our Archives
Items and collections that are deemed to have a significant value to the history of Carroll County and the West Georgia Area are excepted by the Carroll County Historical Society as follows:
Donations to the Carroll County Historical Society (titles and legal owner given to society).
Items Placed on Loan with Society (term of agreement to placed in a typed written letter).
Items Purchased by the Society (price, titles and ownership is held by society).
If you do not want to register online, please feel free to download the Carroll County Historical Society Membership Application and mail it to us.