Page 1 - Current Newsletter
P. 1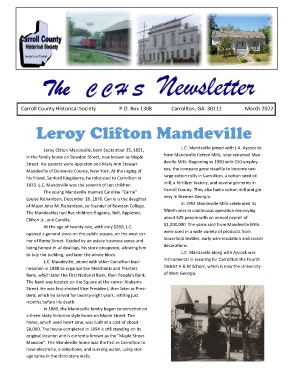 The   C C H S    Newsletter






        Carroll County Historical Society         P. O. Box 1308         Carrollton, GA 30112                                       September 2018


              - Blynne Olivieri will be our featured Speaker at the February 19th Meeting -

                                     Carrollton Bradley Street Depot at 6:30

                                                  Blynne Olivieri is an Associate Professor and Head of Special Collec-
                                                  tions at the University of West Georgia.

                                                  From 2009-2012 Blynne served as Pacific Northwest Curator at the Uni-
                                                  versity of Washington Libraries

                                                  She is active professionally in several library and archival organizations
                                                  and was a Senior Fellow at UCLA's Graduate School of Education &
                                                  Information Studies in 2016.

                                                  She and her family have called Carrollton home since December 2012.

                                                  The excerpts below were taken from an article published on :
                                                  https://www.uwgperspective.com/faces/olivieri.html

                                                  Blynne Olivieri feels privileged to head Special Collections in Ingram
                                                  Library. "I came to UWG for the collections and for the opportunity to
                                                  connect people with the collections through digital initiatives but I am
                                                  staying here because the students, faculty, and staff are the most com-
                                                  mitted, hard-working, and courteous people I've ever met."

          Special Collections includes the university's archives, local and regional collections, the Georgia Political Heritage
          Program collection, topical collections relating to the fields of humanistic psychology and parapsychology, and rare
          printed materials.

          Because of the national caliber of the collections--the papers of politicians Bob Barr and Newt Gingrich and psycholo-
          gist William Roll as examples--people come from all over the world to use Special Collections materials in production
          of newspaper articles, books, and documentaries. Whoever you are and for whatever reason, whether it is genealogical
          research or you are a fan of Tom Murphy and want to read his letters, you can come to UWG to use Special Collec-
          tions. "We collect, preserve, and make these materials accessible to everyone," says Blynne. "It doesn't matter who you
          are, what you do, or what academic degrees you may or may not have. Special Collections is for use by the people."

          The most important part of her job, Blynne emphasizes, is "getting these primary sources into the hands of UWG stu-
          dents. I want them to feel confident in physically handling rare materials and to be able, intellectually, to place a Civil

          War letter written by a Carroll County resident into the larger historical context."




                            The Public is cordially invited. Light Refreshments Will Be Served.